Today we review Godzilla Vs Podcast Zero (In stunning The Dick Show quality!!) and then we play prank call mad libs- in today's How To Prank bit. George and Haley's Madcast Media Conference has been delayed by the coronavirus- good thing they have plenty of neighbbas, local businesses and hotels to ask to be their new venue! Southern George needs a Pool Cleaner, Meth George's son is only four- and already addicted to his dad's supply- so he calls Itsmintsalad's dad for parenting advice! All this and more, on Episode 3 of I Am The Greatest.
Mad Lib Call Starter! Try something like:
"Hi, My name is JOB at the Madcast Conference over here at the LOCATION. I was just calling to let you know that we will be over there, (at LOCATION) in bout 10 minutes. (PAUSE FOR REACTION)
Well, the coronavirus concern made our venue cancel, we are moving about half of us to your LOCATION. It's me, my friend CELEBRITY NAMEDROP and about BIG NUMBER of others!"
From there, just try to make them mad! Tell em to hang it up, or say a curse word! Tell em you have tents, and are coming NO MATTER WHAT. That'll get a reaction! Here are some madlib suggestions to help you find your prank call footing!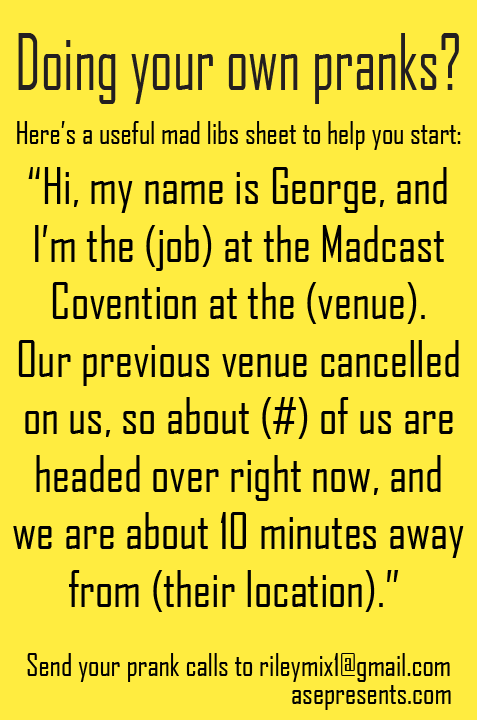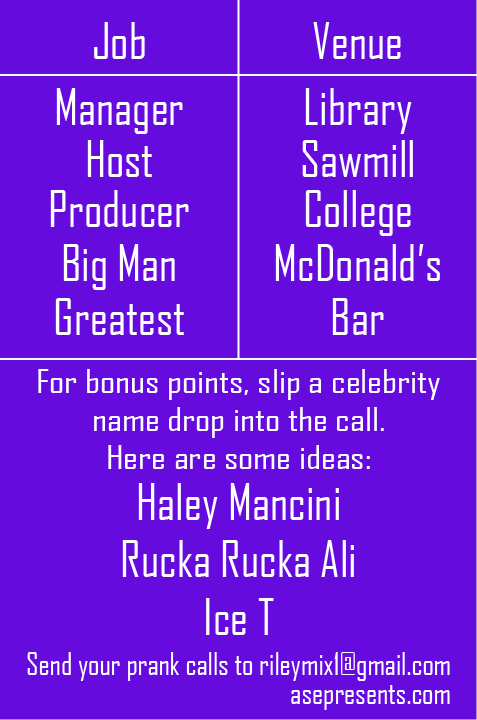 Podcast: Play in new window | Download (Duration: 53:52 — 32.3MB)
Subscribe: RSS